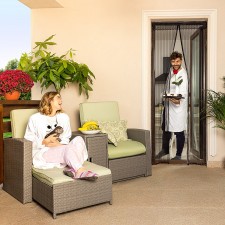 NEW YORK, March 18, 2018 (Newswire.com) - Lazy Monk, one young and eager brand, has just launched yet another interesting product. The team working at Lazy Monk is excited to tell the world about the many benefits of this Magnetic Screen Door!
Getting ready for those few months of sunlight, homeowners have yet to face another annoying situation, also known worldwide as the bug issues. Just when things are looking up and the enjoyable, relaxing summer night breeze is about to make its presence felt, an army of insects, large and small, silent and noisy are taking over the house. Annoying? Yes! Potentially dangerous? It could very well be true. This bullet can be dodged simply by making a small, yet incredibly relevant investment.
The Mesh Screen Door, coming from Lazy Monk, is a one-of-a-kind product, having the power to block insects from entering the home, yet permitting the fresh breeze to come right in. Made from super-strong, high-quality mesh, the screen door is easily installed, using Velcro pieces which will last a lifetime. Additionally, the mesh curtain is sealed tight using magnets inserted directly into the material and gravity weights located on the bottom of the curtain. The purpose of the gravity sticks is to quickly seal the door behind, blocking all insets, large or small.
"It's true, we can't stay away for too long, but each time we bring something new to the market, we want to make it worth your time. Customers have access to a Magnetic Mesh Door we are particularly proud of. We know that there is a high demand on the market for such a product and we trust that our version of the Magnetic Screen Door will suit all your needs! We are already using this Mesh Door for our homes and even though we have not had that many visitors, the ones we did were quickly turned away! So, in a nutshell, we trust and recommend our product and we are excited to see the reaction of our customers!" declared Charles White, Lazy Monk co-founder.
Source: Lazy Monk