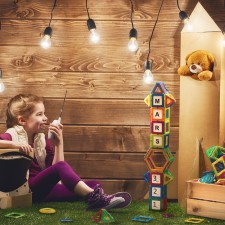 NEW YORK, January 12, 2018 (Newswire.com) - Lazy Monk, a young, yet surprising brand, has decided to invest in a cool new product, designed especially for kids. The Magnetic Block Set, containing no less than 102 pieces coming in various shapes and colors is bound to impress boys and girls, as well as parents. While fluffy toys or loud devices may still catch the eye of children, STEM toys have started to catch up in terms of appreciation. Lazy Monk's Co-Founder - Charles White kept a close eye on the educational toy market, noticing a growing interest in the last few years.
While the company heavily supports outdoor activities, constantly promoting a better, healthier lifestyle, putting a strong emphasis on sport, investing in products which improve the mind and not just the physique was always a goal for Lazy Monk. One might even spin an old saying around to best fit the brand, mentioning that a healthy mind is what educates the body and the heart. Looking at things from this perspective, the decision to invest in magnetic blocks which expand a child's horizon and improve social skills seems like the natural choice of action for this future-oriented brand.
Since educational toys may come in various forms, parents ought to know why investing in the Lazy Monk Magnetic tiles is a good idea. The brand's co-founder offered all those interested the answer to this question.
"Launching this product on the market is much like a dream come true for our company. Being a small family company, you can imagine that the entire team has been involved in the manufacturing process, from the actual market research and up to the design and making of the toys. Once children and now parents, we can understand the concept of educational toys from different perspectives. The Lazy Monk magnetic building tiles are fun, colorful and they can be combined in multiple ways. Kids will instantly fall in love with them. What parents need to know about these magnetic building blocks is that they are completely child-friendly. The corners of each magnetic tile are rounded, so children will not get hurt and the plastic used in non-toxic and BPA free. As mentioned before, we are all about the future, about turning dreams into reality, but always in safe and secure conditions, especially when it comes to our children." - Charles White - Co-Founder of Lazy Monk:​
The Lazy Monk Magnetic Blocks have just been launched on the market, already enjoying positive reviews from satisfied clients.
Source: Lazy Monk