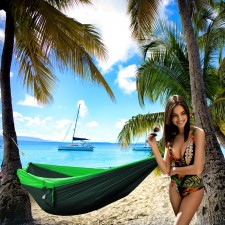 New York, NY , February 13, 2018 (Newswire.com) - The definition of an online slam dunk? So far, it would seem that the Lazy Monk camping hammock is the perfect illustration of this kind. Recent launch, fast line-up to get the hammock and positive reviews that keep on coming, that would be the evolution of a successful product. The Lay Monk double camping hammock has all these signals, surprising everyone with its fast evolution. Charles White, Lazy Monk co-founder, was taken by surprise, even though he was directly involved in the making of this parachute hammock.
"I knew that this hammock would impress everyone, but I never expected things to develop so fast. We are grateful that customers in such a large number choose to invest in our product, we are happy to make so many people happy and we are excited about what the future holds."
Customers are eager to leave flattering reviews, revealing the after sale joy. Here is what one customer had to say about the Lazy Monk double hammock.
"My family lives for the outdoors and we just tried it out this weekend and we LOVE it! Both set up and take down are so simple. The company truly pays attention to quality & detail which I appreciate. Once purchased, they emailed a detailed PDF to describe the product's different uses as well as a short video that demonstrates the simple - yet secure - set up for the hammock. Each member of my family was able to comfortably nap in the hammock and it can definitely hold up the amount of weight it claims to. Packing it away was also very quick (took me about 20 seconds to neatly fold it and store it into the bag). It will be really easy to clean. All around, great product! WELL worth the $ for quality, convenience, comfort, customer service, and company's attention to significant details. THANK YOU Lazy Monk!", said J. Del, Lazy Monk customer.
The company has just launched the camping hammock, quickly gaining a high level of popularity and appreciation. Even though Lazy Monk is a small company, it has a lot to offer, both in terms of product variety and quality. This is definitely one provider that deserves the public's attention. 
Source: Lazy Monk