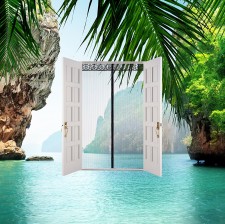 NEW YORK, March 23, 2018 (Newswire.com) - Just recently, Lazy Monk, a young, yet reliable brand has launched a new product, the Magnetic Screen Door. The team working there, together with Charles White, co-founder, decided that a Screen Door is an absolute must, especially during the hot summer days that lay ahead. Of course, it's not that difficult to imagine why, but it may be helpful to understand why a product of this kind, which at first may pass unnoticed, is in fact essential to any household. Here are three reasons for which all homeowners should try Mesh Screen Door.
The idea behind the Lazy Monk Magnetic Screen Door is that of protecting the home from insects. Having a thick, high-quality mesh curtain, the Lazy Monk Magnetic Screen Door doesn't allow any insects, no matter its shape or form to pass through. The second reason is the easiness with which it can be handled. Charles White, co-founder, had a few things to say in this respect.
"We wanted to create a product that would take less than 5 minutes to be installed and taken down, when necessary. And you will see that thanks to the Velcro pieces used, the Magnetic Screen Door is quickly installed. However, quick also means long lasting in this case. You mustn't think that because it can be installed in a few minutes, it will fall off just as fast. Rest assured that the Screen Door will remain installed until you choose to take it down," mentioned Charles White.
The third reason has to do with pets and children. There have been lots of concerns on the market that magnetic screen doors, in general, are not exactly pet- and child-friendly. Once installed, kids and animals have difficulties coming in and out of the house.  Everyone, including kids and pets, can walk right in through the screen door and this will quickly seal behind, having gravity sticks and strong, high- quality magnets inserted in the fabric.
These are the top three reasons to invest in the newest Lazy Monk product. Thus, one could say that this product is one that can be trusted.
Source: Lazy Monk